Day:
November 20, 2015
Winter Arts & Crafts Pop-Up Market
We're throwing open the doors of the Studio & it's your opportunity to tour the space, talk to artists and enjoy the atmosphere.  We have also invited selected artisans and craftspersons to join us to enhance your shopping experience.
10:00am-5:00pm  
Original Fine Art & Craft from over 20 Artists, Artisans and Craftspersons
Talk to our Artists about their art and processes
Learn about Artism-our new program for children & adults with special needs
Refreshments
100 Braid St Artists:
Judy Villett
Judith Copland
Gillian Wright
Mardell Ramptom
Terra Varey
Victoria Klassen
Fiona Tang
Rachael Hatala – Laughing Sparrow Jewelry
Susan L. Greig
John Salterio
Omanie Elias
Ross Haduk – Eklection Lighting
Karen Justice – Just Look Photography
Tony Durke
100 Braid St Teachers
Cliff Blank – Dogma Portraits & Art
Carla Thompson – Sweets Curio Crochet
Naomi Topuzoglu – Art Dreams
SD Jackson
And Guests
Valda Bardell Sock Monkeys
Bayoush Mengesha Jewelry
Andy & Sandy Signs
and more.
We'll have coffee, tea, hot apple cider and cookies; you're welcome to pull up a chair to the fireside a stay a while.
FAQ's
What are my transport options getting to the event?
Address:  200-100 Braid St   New Westminster, BC  V3L 3P4
Intersection:  Between Braid and Brunetter and Braid and Rousseau St.
By Car:  The studios are conveniently located just off of Hwy 1 on Braid St between Rousseau and Brunette.  Parking is available in the front of the building and additional parking is available in the back of the building.
By Skytrain:
Millenium Line: Braid St Station.
100 Braid St Studios is about a three minute walk across the street from the Braid St Skytrain station.  The station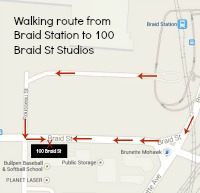 is the major interchange with skytrain for many Coquitlam and New Westminster bus routes.
By Bus:
Many Coquitlam and New Westminster bus routes meet at the Braid Station interchange and then it's just a short walk to the Studios.
Parking:
Parking is limited in the front of the building so if you can't find a spot, please feel free to drop off passengers at the front door and then go around the building and park in the second parking lot just past the Planet Lazer Tag parking area and in front of Uptown Dog.  It's a quick walk around to the front as we don't have a back entrance.
How can I contact the organizer with questions?
Contact:  Susan Greig
Email: 100braidststudios@gmail.com
Phone: 778-886-5391
Open to the Public:
Sunday & Monday – closed
Tuesday – by appointment only
Wednesday – Friday:  1:00pm-6:00pm
Saturday 1:00pm-6:00pm (please call first as we may have a private event running)