On the Braid Stage Artist Talks presents
Dizz McGruber: A Glitch Artist in a Fine Art World
Monday, March 9
7-9:30pm
Meet Dizz McGruber.  A Glitch Artist in a Fine Art World. Imagine what it would be like to see your art projected on a 30 foot screen in Times Square? This will be Dizz's experience in February 2020. This 100 Braid St resident artist will speak about how he was introduced to Glitch photography, the individual processes he uses, his involvement and acceptance within an international peer group of artists. Attendees will receive an exclusive tour of his studio; he will explain how glitch photography challenges the way we perceive visual information and the notion of creation through destruction, the excitement of being on the forefront of an entirely new medium, and how the doors of the fine art world have been opened and slammed shut throughout his journey.  One attendee will go home with a piece of a limited run of Dizz's art.
Find out more about Dizz:
Instagram:  @dizzmcgruber
Facebook: https://www.facebook.com/dizz.mcgruber 
Upcoming Shows:
2020
Error: File Not Found Glitch Art Show April 3-5
100 Braid St Studios
New Westminster, BC
————————————————————————
On the Braid Stage Artist Talks is a monthly program series where owner & founder of the studio, Susan L. Greig, invites artists from a range of disciplines to talk about their journey in the creative process. They will share their work, influences, processes and how they navigate the art world. 100 Braid St resident artists will give an exclusive tour of their studio and each night will finish off with questions and answers. Each artist will also provide a piece of original art that will go to one of the people in attendance at the event! Refreshments will be available during a 20 minute break in the evening.
If you're an artist interested in presenting, please contact Susan Greig at 100braidststudios@gmail.com
FAQ'S
WHAT TO BRING
Yourself and some friends.
REFUNDS & CANCELLATIONS
We understand that life happens. If you need to cancel please give us as much notice as possible. Generally, we do not provide a refund unless the event is cancelled by 100 Braid St Studios. We are however happy to provide a credit for another event of equal value. If the event is cancelled by the Studios you have the option of a refund or a credit for another event of equal value.


What are my transport options for getting to the event?
By Car:  The studios are conveniently located just off of Hwy 1 on Braid St between Rousseau and Brunette. Parking is available in the front of the building and additional parking is available in the back of the building.
By Skytrain:
Expo Line – Production Way: Braid St Station.
100 Braid St Studios is about a three minute walk across the street from the Braid St Skytrain station.  The station is the major interchange with skytrain for many Coquitlam and New Westminster bus routes.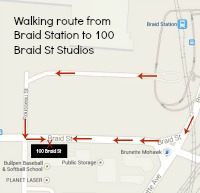 By Bus:
Many Coquitlam and New Westminster bus routes meet at the Braid Station interchange and then it's just a short walk to the Studios.
How can I contact the organizer with questions?
Please email at: 100braidststudios@gmail.com
Phone: 778-886-5391
Hours of operation:
Sunday & Monday – closed
Tuesday – by appointment only
Wednesday – Friday:  1-6pm
Saturday – by appointment only
Newsletter Sign Up
By purchasing or attending this event you are agreeing to sign up for the 100 Braid St Studios Newsletter.  On each newsletter there is an UNSUBSCRIBE link or you may email us at 100braidststudios@gmail.com to indicate that you do not wish to receive this newsletter. The newsletter will keep you up to date on upcoming future events at the studio.
We look forward to seeing you!