Music Open Mic Night at 100 Braid St Studios
Jan 6
7-10pm
Hosted by 100 Braid St
Featuring Stephanie Lam, Quayside Voices
You can shine as a guest musician whatever your talent, whatever your age!  Bring your performance down to the studio to share with a warm, welcoming crowd. You have up to 8 minutes per time slot so be sure to come early and sign up from 7:00pm onwards. Show starts at 7:20pm. Everyone is welcome at this all ages event! We'll have a different featured artist hosting each event.
• Performing musicians of all kinds! Youth encouraged!
• Solo or band – no size limit to the performance as long as you're within the 8 minutes (no big set-ups or strike)
• Performed content has to be suitable for all ages
• Time limit: Up to a maximum of 8 minutes
• 10 spot sign-in (list opens at 7:00pm)
• Line-up
Time Line:
o 7:20pm – Braid Artist Opens
o 7:30pm – spot 1
o 7:40pm – spot 2
o 7:50pm – spot 3
o 8:00pm – spot 4
o 8:10pm – spot 5
o 8:20pm – spot 6
o 8:30pm – break
o 8:40pm – spot 7
o 8:50pm – spot 8
o 9:00pm – spot 9
o 9:10pm – spot 10
o 9:20pm – Braid Artist Closes
• We'll have a waiting list for people with pieces under 5 minutes to fill the gaps if we're ahead of time
• We have an Electric Keyboard and a sound mixing board
• Concession Available (Coffee/Tea/Beer/Wine/Juice)
• Admission: Pay what you can (suggested donation of $10)
What are my transport options for getting to the event?
By Car:  The studios are conveniently located just off of Hwy 1 on Braid St between Rousseau and Brunette. Parking is available in the front of the building and additional parking is available in the back of the building.
By Skytrain:
Expo Line – Production Way: Braid St Station.
100 Braid St Studios is about a three minute walk across the street from the Braid St Skytrain station.  The station is the major interchange with skytrain for many Coquitlam and New Westminster bus routes.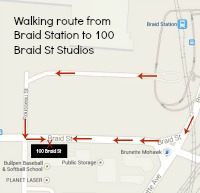 By Bus:
Many Coquitlam and New Westminster bus routes meet at the Braid Station interchange and then it's just a short walk to the Studios.
How can I contact the organizer with questions?
Please email at: 100braidststudios@gmail.com
Phone: 778-886-5391
Hours of operation:
Sunday & Monday – closed
Tuesday – by appointment only
Wednesday – Friday:  1-6pm
Saturday – by appointment only
Newsletter Sign Up
By purchasing or attending this event you are agreeing to sign up for the 100 Braid St Studios Newsletter.  On each newsletter there is a UNSUBSCRIBE link or you may email us at 100braidststudios@gmail.com to indicate that you do not wish to receive this newsletter. The newsletter will keep you up to date on upcoming future events at the studio.
We look forward to seeing you!